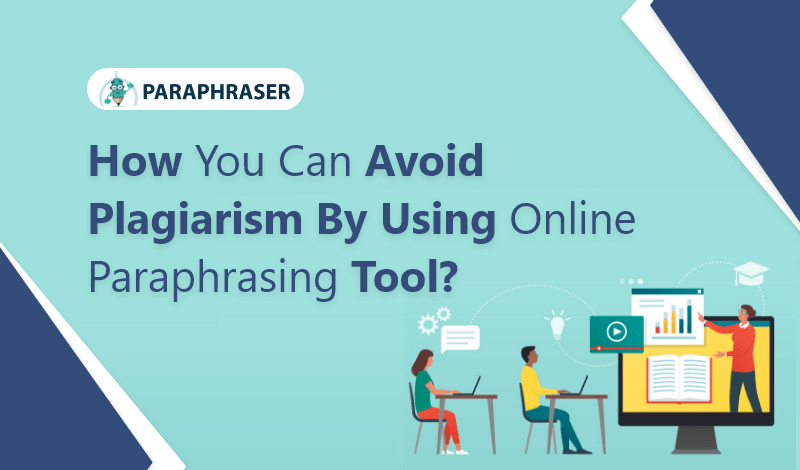 How you can avoid plagiarism by using online paraphrasing tool?
What is Plagiarism?
Plagiarism can distinguish as utilizing another individual's work and presenting it as yours. It may use with or without the owner's authorization.
Why should a writer avoid Plagiarism?
Consuming someone else's work and displaying it as yours is unfair in every way. Plagiarism is assumed to be a fraud. It spoils the writer's significance and his employment. It should restrict in every field. Besides, the writer fails to enhance his research capabilities, which hinders him from generating his ideas.
How to prevent your work from Plagiarism?
Rather than copying other's work, it's adequate to utilize your sources appropriately. Struggle to explore your project through the internet, publications, magazines, and blogs, etc. Pen down all of the critical points that sound noteworthy to you and use them in your work in a different mode.
Significance of plagiarism-free content
The content you create using other's concepts can never acknowledge as yours. It won't be considered an original work. And neither you nor your work will get any distinction. A plagiarism-free content gets all the prominence. It gets praised in every domain, every profession.
How Plagiarism impacts your work?
It influences your work in every way possible. Whether you're a pupil or an author, Plagiarism has its disastrous aftermath. In every field, it's unethical and illegal; as a learner, you'll get expelled from the institution. And as a writer, you'll lose your credibility.
How to get rid of Plagiarism?
There are several ways to get rid of Plagiarism, which includes:
Get familiar with Plagiarism
To avoid Plagiarism, one must be aware of its meaning and concept. If you become familiar with this term and its consequences, you'll start to avoid it yourself.
Do your chore in a relaxed duration
To create original and plagiarism-free content, the writer must have sufficient time to analyze the topic and write about it in his own words.
To avoid Plagiarism, you must mention the source of the work you're using. Refer to the origin. Give the recognition to the original writer.
If you find a sentence appealing and want to use it in your project, do it in the quotation form. Add citations.
Do not rely on the exact data you search from somewhere; instead, begin to put in your own opinions.
It is important to reread your article after completion. It will help to get you plagiarism-free content.
Operating a plagiarism checker is a convenient way to create unique content.
It can describe as the most accessible and feasible way to get rid of Plagiarism.
Let's explain this term in detail
What is paraphrasing?
Paraphrasing can portray as expressing the meaning of something that you've read somewhere, using different words. It involves the procedure of rewording a sentence. In paraphrasing, it is essential to keep the original meaning so that the validity remains unchanged. It's like you are writing something in your words but still conveying the source idea.
The prominence of paraphrasing
Paraphrasing is significant because it reveals that you understand the reference well enough to compose it in your utterances. The paraphrasing method formulates to help students and writers to concentrate on the considerably vital information in a paragraph. This way, students and writers read chapters, identify the basic idea and facts, and rephrase them in their own words.
Abstracting and paraphrasing can conserve time, boost understanding, and give sovereignty and credibility to your content. The uniqueness of paraphrasing is that even when you are borrowing someone else's work and arranging it in your own words, you must refer to the origin of your information.
Easy steps to paraphrase
It is lenient to paraphrase, keeping in mind these few steps :
• Survey the paragraph numerous times to understand it properly
• Point out the guide concepts
• Pen down your version of the article
• Correlate your performance with the original one
• Refer to the source of your information
How can you avoid Plagiarism by using a paraphrasing tool?
The paraphrasing tool is a component of automated software technology that operates for rewriting an article. It is considered the favorite tool that can benefit the researchers out. This strategy makes modifications from line to line and word to word. As an input, it puts up with the original text and creates a new and unique plagiarism-free article as an outcome in a few instants.
1. Collect Information
To use a paraphrase computer, you must first get all of the facts in order. This is where you'll do your studies. Without you entering any detail, a paraphrasing tool will not write your content from scratch. Recognize that it just eats what you offer it. You'll want to double-check that you have all of the material in the correct order.
2. Trust the tool
We've grown used to being in charge and doing all of the heavy lifting ourselves. If you use online paraphrasing, you must have faith in the process. Often authors tend to paraphrase themselves, but using a tool can yield better results. If you don't give it a try, you'll never know. When checking the data, don't make any adjustments that aren't absolutely necessary.
3. Proofread
Proofreading and editing are also necessary steps in the writing process. And if you're using a programme to edit the content for you, these steps must be followed. It is ideal to proofread with a human eye. There are also a plethora of excellent grammar checkers available. You can save a lot of time and money by doing so.
Best online paraphrasing tools available
While surveying for a paraphrasing gadget online, make sure you choose software that will give the most accurate results. Multiple programs are offering free accessible tools for paraphrasing. Extensively legal is an online paraphrasing service.
It usually has a box where the article you wish to paraphrase must be inscribed or pasted. It will itself restructure once you click the start button. The paraphrasing services are incredibly advantageous. One of the best online paraphrasing tool is paraphraser.io
Below is mentioned one of the best online paraphrasing tools:
This online paraphrase gadget has numerous features that include altering essays, removing Plagiarism, and rewording writings. This paraphrasing tool functions best as a term changer and passage rephrase.
Paraphraser.io has the skill of rephrasing the script on a human level. The decisive article will be understandable, reliable, and plagiarism-free. It is the most advanced rewrite tool. It maintains the actual objective of the sentence while altering the pattern. It eliminates identical content. It doesn't tarnish the integrity of the sentence. It can use online, everywhere, and on every device. Moreover, it is available in several languages.
Conclusion
Any content can be made plagiarism-free by following the steps mentioned above. Concentrate on generating your unique content by using a paraphrasing tool like paraphraser.io