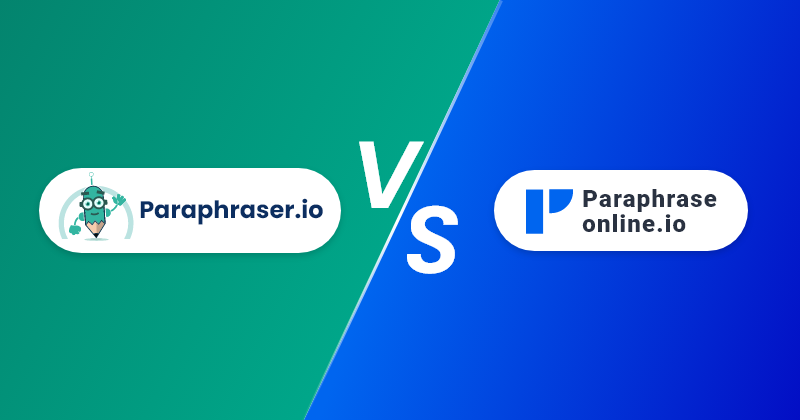 Paraphraser.io Vs. Paraphraseonline.io: Working & Benefits
Paraphraser.io and Paraphraseonline.io are two capable paraphrasers. So, which one is more beneficial?
Paraphraser.io is the primary option for many writers. On the other hand, Paraphraseonline.io is moving up the ranks. However, while one offers excellent features, the other relies on its various paraphrasing capabilities.
In this article, we'll explore just how well these two compare against one another. And in the end, we'll sum it up by answering which one stands out as the better, more beneficial option. So, let's get started.
Introduction to Paraphraser.io
Paraphraser.io is one of the first search engine results when looking for a good paraphrasing tool. It has become the premier choice for many writers, including academics and professionals in SEO. It's widely considered a treat for writers, as it offers unique options besides paraphrasing, such as:
A stellar paraphrasing tool;
A capable plagiarism finder;
An effective grammar checker.
Besides these two offers, the website also offers a text summarizer and citation generator. Besides that, the website also features a highly informative blog. Which posts a lot of tips and tricks for writers on both sides of the spectrum (academic and professional).
While these are some of the key offerings of paraphraser.io, it's primarily considered for its paraphrasing tool. However, the combination of tools offered by the website is nothing to be ignored, as it allows a writer to thoroughly complete their writing process without leaving the website.
Besides that, the one thing that their paraphrasing tool is known for is its advanced paraphrasing capabilities. That's made possible because of the self-proclaimed cutting-edge technology. That's why writers mainly use it for two main reasons.
One is to remove plagiarism with the help of a rephraser. On the other hand, they use the plagiarism checker to churn out duplicity in their text. This makes it a practical and ideal combination of two tools that correspond well with one another. However, we'll analyze just how well it works later on.
Introduction To Paraphraseonline.io
Paraphraseonline.io is a newcomer in the paraphrasing industry. While this paraphrase tool isn't that well-known, some writers sing its praise, while others are indifferent. While it's steadily increasing in the ranks, this paraphrasing tool targets writer's who wish to paraphrase online to write unique specific sections.
The program's main page leads you to the paraphraser, which isn't precisely a paraphraser, as it offers various modes. However, each is meant to target different aspects of content writing, whether in academic or professional settings.
That's why it acts more like an AI assistant rather than a full-fledged paraphrasing tool. For instance, its paraphrasing tool has four main modes, which are:
Word changer
Sentence rephraser
Paraphrase text
Text improver
Besides the confusing difference between them all, there's not much you can see if you try them all—which we'll analyze in a bit. The thing that makes this paraphrasing tool stand out is the outstanding UI design. On top of that, the tool also relies on advanced AI algorithms, as claimed by the website.
But, the tools' primary target audience is unclear, as it seems to be directed more towards academic writers. However, it rephrases content just fine, so SEO writers can use it as well. But we'll analyze how well that works in a bit.
Direct Comparison
Now that we know the key things about both these tools let's pit them against one another directly. In this contrast, we'll draw a comparison between the two and understand the similarities. This will help us understand which one looks better in theory.
It'll also give us a grasp on which one is well-equipped to tackle the challenges of writers. Here's a table to analyze those differences/similarities:
| | | |
| --- | --- | --- |
| Features/Alternate Options | Paraphraser.io | Paraphraseonline.io |
| Content Modes | Four (two unlocked when paid) | Four (paraphrase and text improver work the same) |
| Word-Limit | 500 | 2500 |
| Upload Methods | One | Four |
| Plagiarism Checker | Yes | No |
| Grammar Checker | Yes | No |
| Summarizer | Yes | No |
First, let's talk about the content modes available in both these tools. Here's what Paraphraser.io's UI offers:
And here's what Paraphraseonline.io's UI offers:

The main difference between these two is that Paraphraser.io offers overall content modes. Paraphraseonline.io, on the other hand, offers various ways of changing content to different lengths without altering the content's tone.
Now, this isn't necessarily a bad thing. However, it's not exactly ideal in many cases. Mainly because not every writer is looking to change specific sentences or alter words. Instead, most writers would rely on paraphrasing an extensive number of words
We're talking at least 2-300 words at a time. However, these are only the way these tools look in theory. The real-world implication of any paraphrase tool like this is far different anyway. But, it's about appearances, and if a writer doesn't think one tool appears right for them, they will move on.
For instance, changing 500-words in the same content tone simultaneously sounds a lot better than changing specific bits and chunks. That's why, Paraphraser.io stands out in theory, as it keeps things simple.
How Do They Paraphrase? Which One Is Better?
In order to understand the paraphrasing prowess of any tool, it's imperative that we test it out. Now, both these tools look remarkable in theory. However, the only thing that could prove their word is their ability to paraphrase the content.
Therefore, testing them is the only way to find out which one is better. In this test, we'll check the paraphrasing of both these tools, including their various modes. So, let us dive right into it.
Paraphraser.io focuses on improving the content's quality, as mentioned on the website. However, their various content tones can be used for different purposes. But, since the free version only has two content usable content modes, we're limited to using Fluency and Standard modes.
While both these modes are more than enough, will they be enough for something important, like removing plagiarism? Let's find out.
Fluency:
Fluency is the first content tone and the default mode selected as soon as you visit Paraphraser.io. It seems to be their priority, and it's also the one used in plagiarism removal by writers. So, let's find out how exactly it works:

The thing to notice here is that this content mode doesn't alter the text upside down. Instead, it changes just enough to deliver on the promise of its name: fluency. This is more than an acceptable result, allowing writers to change their content without compromising quality. Now, on to the next mode.
Standard:
The next and the last freely usable mode is Standard, which allows us to change nothing in terms of content tone. However, the results are quite pleasant, as you can see:

This content is a bit more changed than it was in Fluency mode. Now, there are two main reasons behind it:
The mode is designed for plagiarism removal;
Or paraphrasing enough to improve without altering the content.
In our case, the tool achieved both. This is more than an acceptable result, as it ensures the removal of plagiarism, fluency of content, and overall improved quality.
Paraphraseonline.io has four different content modes, and all of them are free. The lack of premium features tells us two things:
The tool is still in the making;
The writers need to figure out how to use it.
In either case, content quality depends a lot on the tool itself. So, how exactly do its various content modes bode against the more veteran counterpart (paraphrase.io)? Let's find out by analyzing its various modes:
Word Changer:
Word changer is the default mode selected by the tool upon visiting the website. Therefore, when you rephrase your text with it, here's what you get:

As you can see, the content has changed only a few words here and there. This is a subpar result for a content mode that is supposed to change words, as it only picked a few words and tweaked them. However, it's not exactly bad, as some writers might find it adequate.
Sentence Rephraser:
The next mode we have is Sentence Rephraser, which is supposed to change individual sentences. So, using it brings us to this sort of result:

While this is a little bit better, the tool still holds off, as it doesn't change much. The words paraphrased are marked in bold, and you can see it only tweaked a few words here and there, but nothing sufficient. But, will it be better if we changed just a sentence with it?

A little bit, but it doesn't exactly make a difference because not all who use this tool will paraphrase individual sentences.
Text Improver:
As a bonus, we're testing the third mode. So, does it change things around for Paraphraseonline.io?

Not exactly, as the tool still only changes a few bits. To make sure we aren't missing anything, let's try the final and the premier mode of Paraphrase Text too:

And once again, the tool has nothing to show for it. It only changed a few words instead of paraphrasing the entire or most of the content we provided.
Which One Is More Beneficial: Pros, Cons, Price, Etc.
Now that both the tools are tested, let's find out what's our verdict:
Paraphraser.io was the clear winner in our comparison, as it presents itself as a much more well-rounded option than its counterpart. There are a few reasons behind that, and they are:
It offers a variety of companion tools;
It paraphrases effectively;
It's a lot quicker and more convenient.
Now, there are some drawbacks, but they're nothing compared to their pros. Speaking of which, here are some of them to sum things up:
Pros of Paraphraser.io
High-quality paraphrasing
Extensive rephrasing of content
Four content modes, two of which are usable
Alters text efficiently
Cons of Paraphraser.io
Ads might be a bit annoying
500-words might be a bit less for some
The other two content modes should offer a trial/testing mode
Why Paraphraseonline.io Doesn't
Now, why Paraphraseonline.io doesn't win this comparison:
Pros of Paraphraseonline.io
2500-word limit
Attractive UI
Various upload methods
Cons of Paraphraseonline.io
Content modes don't do much
Paraphrasing isn't adequate
Needs work on paraphrasing quality
Conclusion
There you have it, the comparison between Paraphraser.io and Paraphraseonline.io. While the Paraphraseonline.io offers a lot of options, they're not exactly effective. And, you get sort of a "work in progress" kind of a feel from using it.
Whereas using Paraphraser.io gives you the feeling of using a premium tool. That's something rare in free tools, and that's why it delivers better.
The key difference between the two was paraphrasing, which Paraphraser.io won comfortably. So, in terms of paraphrasing and overall quality, Paraphraser.io does work better and proves to be more beneficial.