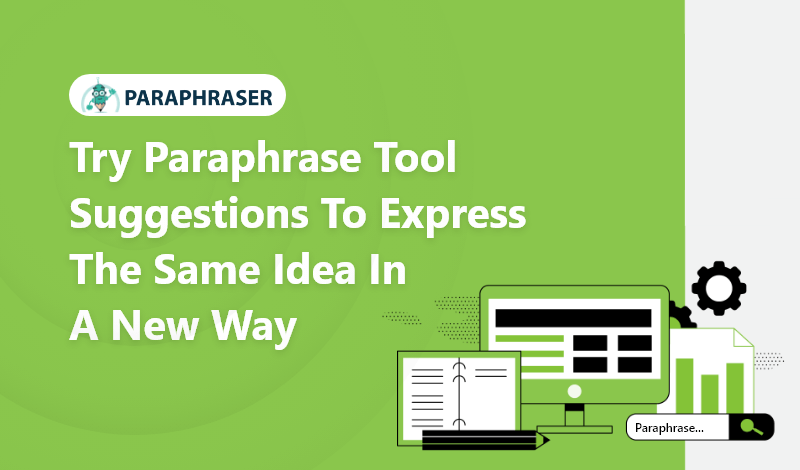 Try paraphrase tool suggestions to express the same idea in a new way
Paraphrasing means rewriting someone's opinion in your wording without changing the concept. In academic writing, it is always better to use your vocabulary instead of writing the exact language of any writer. Because it shows that you have an understanding of the concept.
First, you must read the whole content. Moreover, write down the basic concepts. Then, start writing without copying the original content. Use synonyms in this way that the meanings of the content remain the same. The only work is to make new content with the same idea.
Why we use the Paraphrasing tool?
A paraphrasing tool is an intelligent software that rewrites the content without changing its sense. You can express the same content or material in a new way. It will save time and energy. Therefore, it is decision-making software that rewords your text. This tool modifies the wordings without impacting or changing their context.
You may have run into this issue when dealing with freelancers. They usually take a day or two to complete a project. Using an online paraphrasing method, on the other hand, would not place you in a difficult situation.
How paraphrasing tools express the same idea in a new way?
There are a variety of reasons why you would want to use online paraphrasing methods. As a content creator, you can use the paraphrasing tool for the following reasons.
Above all, you need an original article for your website or blog. Although the document should be free of plagiarism, the paraphrasing tool ensures that the text is unique.
Physically, rewording quotes is a difficult task. However, using these methods, creating a new copy with the exact definition would only take a few seconds.
You can probably guess who wants a poem paraphrased. You may use this method to translate a poem.
That is why it is so well-known because it can provide you with 100 percent excellent results while devouring your time.
Change the form of the sentences
In the English language, sentence structure is crucial. Make it perfect and logical with this sentence structure method.
Paraphrasing will assist you in creating a summary of the entire material by compacting sentences.
Key benefits of a paraphrasing tool
Using paraphrasing services will save you a lot of time. It is still something that needs to be widely adopted. Nowadays, people are looking for methods to improve their writing skills to find suitable support, given the high demand for fresh, quality, new, and entertaining content online.
It will save you money because the paraphrasing tool is practical and very easy to use. Using paraphrasing means you will not need to spend money to hire content writers. Using paraphrasing services to rewrite the ancient text on your website in new words makes it a fun job to do each time. You can spend your saved money on any other need of your company without any loss.
You won't need to struggle or go through brainstorming when writing the content in a new way. One of the essential benefits of using the paraphrasing tool is to save time. The future of online writing is the paraphrasing method.
Paraphrasing is frequently preferred for students because it is free. There's no doubt that human authors are better at creating high-quality content than computers. Furthermore, you can save time and can add more content to your article. It will give you effective results.
Use a Paraphrasing Tool?
Using a paraphrasing tool is very convenient. Write or paste your text which you want to paraphrase in the given text area. Then you have to click the paraphrase button. You will get content in change wording with the same meanings.
The Most Effective Paraphrasing Tool
There is a large number of paraphrasing tools available on the internet for paraphrasing. You can rewrite essays, remove plagiarism and reword your content. These tools make this job very easy paraphraser.io is the best tool used for this purpose.
The paraphraser.io Tool's Main Features
For paraphrasing material online, it used an advanced algorithm in paraphrasing the content. It is the most effective tool for rewording. The same material will remove, sentences rewrite, and articles will produce that are readable.
Rewriting essays, removing plagiarism, and rewording posts are just some of the features of the online paraphraser.io method. The best use of this tool is a world changer and sentence rewriter. Some features are:
Paraphrasing on a Human Scale
it has the art of rephrasing text on a human level. The final product will be readable and free of plagiarism. One can easily understand the translated text.
Artificially Intelligent Paraphraser
It has the quality of artificial intelligence. It works like a human writer and converts your content with the same readability as a human writer. The tool has a good chance of making the material even more concise than the original.
Keep the original meaning
It makes your article unique without losing the original meaning. Moreover, it will allow expressing the old content or ideas in a new manner. After paraphrasing, the content's consistency will not harm. The tool generates grammatically correct sentences.
What Is the Method of Using paraphraser.io Tool?
It is very comfortable to use. This tool is user-friendly; everyone can use this. It will not require special skills to use it. Furthermore, you can use it anywhere in the world. The tool could use on all devices, including IOS and android.
Every word and sentence in the paraphrasing tool makes it understandable and intelligent as you would expect from a native English speaker.
Moreover, it can deal with multiple languages. This paraphrasing website is for the following languages:
Indonesian
Spanish
French
German, and Turkish.
The method of using this tool is straightforward. You paste or write the original text in the given area. Then, you click paraphrase. Just within a second, you will get the plagiarism-free, fresh, meaningful content intelligently.
The result is a well-written, completely new piece of work. You get the feeling of having a bonus. Moreover, it saved a lot of time and effort.
Conclusion
We come to know that we can receive 100% original text that is free of pronunciation, punctuation, and grammatical errors. Furthermore, it will remove unnecessary terms and phrases. Besides so, it will create better and more meaningful sentences after rephrasing the content.
Nowadays, there are many paraphrasing resources available on the internet. When you decide which paraphraser will give you benefit, make sure it has positive online feedback. Our above mention paraphraser.io is the best rephrase tool available. It's also a good idea to run a plagiarism search on the paraphrased material before submitting it to the internet. When you translated the content, you have to read it a few times to ensure no inconsistencies.