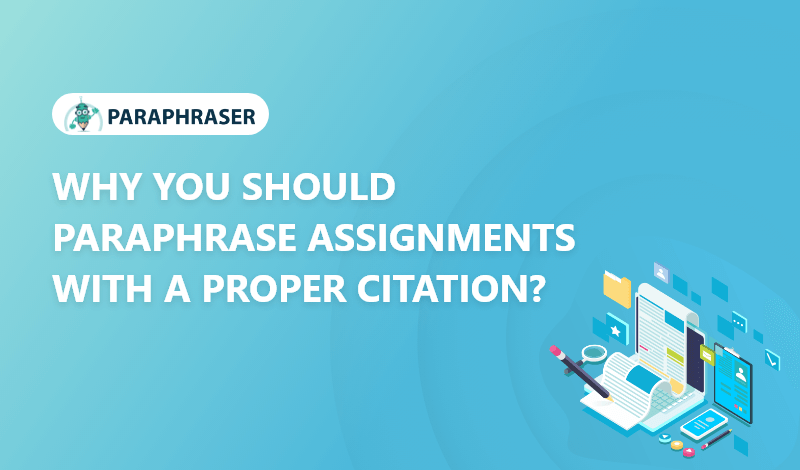 Why You Should Paraphrase Assignments With A Proper Citation
You may expect to use the writings of scholars in your profession to explain your knowledge of important topics, theories, and discussions in your assignments. This information can also use as evidence to back up and validate the allegations.
To stop plagiarism, use caution when adding other people's jobs into your tasks. This topic is now widespread throughout the world. It has made its place in every field. So, in this article, we will look at how to paraphrase assignments properly.
Always make proper notes for Assignment
While it can be appealing to copy paragraphs from a document word for word while taking notes for an assignment, you should stop doing so for three reasons:
It raises the possibility of unintentional plagiarism.
It is a passive approach that does not help you think.
It will disguise the fact that you do not truly understand what you have read.
Citation Details
Mark down the citation material of the source (e.g., author name, year of publication, cover, page number) that you can use for your citation or bibliography when making notes. It removes the need to look up the information later and clarify where the information came from.
Introduction to Paraphrasing:
An efficient way to deter plagiarism from your content is paraphrasing. It can define as picking a particular passage from somewhere and rearranging and rewording it in your way. Paraphrasing considers reliable because it reflects that you have understood and researched the source well. It's like summarizing the central concepts of an article.
There are few essential steps to do paraphrasing that includes:
You are reading the source several times to understand the concept clearly, then penning down the key points to use in your context.
Make use of good vocabulary.
Please keep it simple so that the reader can understand the actual motive. Students should be encouraged to bring out their ideas and pen them down. They should teach to paraphrase to make their assignments credible.
For making the process easy, there are numerous paraphrasing tools made for the users. One of the most efficient and updated tools is paraphraser.io. Let's discuss this beneficial tool in detail.
Paraphraser.io :
To enable students and writers to paraphrase their content correctly and efficiently, paraphraser.io provides all the tools and techniques. This paraphrasing tool helps to reword the phrases but also assists in getting the perfect vocabulary for sentences. Besides, it gives the altered content in such a way that it would be plagiarism-free.
It rephrases the text in such a way that the original meaning and notion remain indistinguishable. It's working on the most advanced technology. It's an AI-based tool.
This tool works as efficiently as a human. It is providing readable and understandable content. It makes sure to retain the quality and credibility of the content.
Another advantage provided by paraphraser.io is that it's available in different languages. That makes it a universal tool, making paraphrasing tasks easy globally. It is a reliable tool. Consider it while doing your chores. It saves your time and effort. It can provide you with high-end results.
The content that develops through this tool is highly productive and enthralling. They are generating content that is human-friendly and logical.
Introduction to Citation
Citation can introduce as giving the reference of the source that you used in your content. Citations enable you to provide deserving credits to the authority. The quotation can be of a book, an author, a paper, or any article. It is simply a way of informing your readers about the content that you used data from.
When writing a paper, it is obligatory to give references to the origin properly. It can make it easy for the students to provide copy-free assignments through citation. Different types of citations introduce to make it simpler. Students can use them according to the requirements of work and their teacher's suggestion.
Variation b/w Paraphrasing and Citation
The variation between these two terms is phenomenal. The citation uses some author's exact words and incorporates them in your content while giving due credits to the source. At the same time, paraphrasing refers to the idea of using some author's concept in your content by rewording and altering it in your utterances. Paraphrasing indicates that you acknowledge the text of the author. In contrast, citation refers to giving due respect to the author.
Both of the terms assist you in creating plagiarism-free content that can get recognition and consideration. The students should teach the difference b/w paraphrasing and citation to use the words correctly in their assignments. They should be aware of these terms.
Why is citation necessary?
Citing has now become a necessity in the field of writing and documentation. Using citation in your assignments enhances your work credibility. It provides the proper credits to the author. Benefits in allowing your readers to track down the source of your information. Which in return guides them more and can help increase their knowledge.
Another significant necessity of citation is that it assists you in providing plagiarism-free content. It authorizes you to appreciate and include other author's explorations in yours. It indicates to your users that you do proper researches.
When a reference adds to your content, it indicates and increases your work's accuracy. It puts weight on the assignments of students. Even they can keep their tasks save for later, so the citation will help them to recognize and go through the source that they used in their work.
Types of citation
There are a few types and styles of citation. Citation is further classified to make it easy and quick for the writer. He can use whatever classification seems easy to him. There might exist more types of citation, but below are a few universal types commonly used.
American Psychological Association (APA)
Modern Language Association (MLA)
Parenthetical and endnote citation
APA uses in social sciences. It uses a style that includes the name of the author and date. It would be best to refer to the author's name and the year of publication of the article. Such as (Becker 2018)
MLA citation refers to the core factors that include the author's name, period, data, location, version, year of publication, and the name of the publisher.
Endnote uses the number and reference and if it's from a book, then mentions the author's name, publication date, publisher name, book title, and page number.
The benefit of proper citation
By giving the proper citation of some established and renounced authors, you get the chance to increase the weight and audience of your content. It demonstrates that you do extensive research and studies and look over other's work with dedication. It also provides the privilege of getting your work authorized.
Besides, adding citations protects your work from getting any indictments of plagiarism. Hence, there are numerous benefits of using proper references. The students should use citations in their assignments to get good grades and appreciation for their work.
How to cite appropriately?
To refer appropriately to a source, you must mention the necessary details of the author. The name of the actual author must say—the date of the article. And the date and year of publication with the name of its publisher. Add URL. And then, students must take guidance from their teachers to use citation properly.
Conclusion
Hence, all the terms mentioned above prove the point of using proper citation in your assignments. Students are encouraged to do self-research and start writing in their way to increase their knowledge and experience. It allows them to enhance their abilities and makes them successful. Not only till assignments age but will guide them throughout their life. The learners must boost their thinking and writing abilities. It makes you a responsible person, either you are a writer or a student.