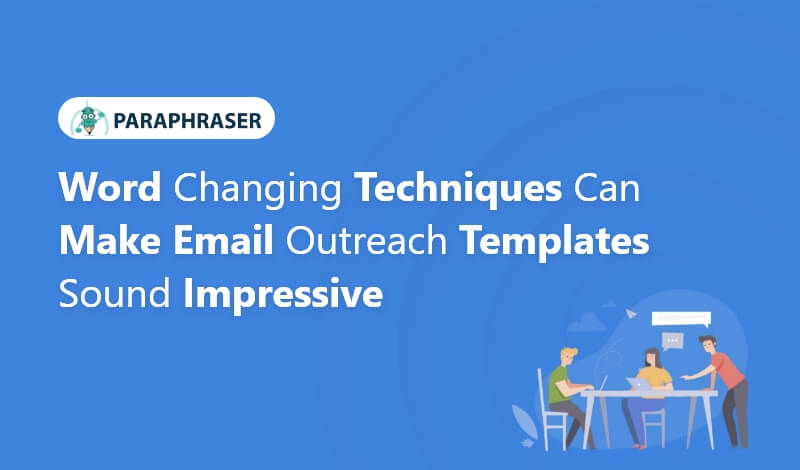 Word Changing Techniques Can Make An Email Outreach Template Sound Impressive
Just as elaborated in the heading, we will discuss how and why word-changing techniques are beneficial for making an email outreach template and how this technology will make your email impressive.
What Is Email Outreach?
It describes as the process of contacting several people through email. It typically is done for marketing, to promote content, business, or to build a partnership with an investor. It has now become a widespread technique to establish links to boost an SEO strategy. At the start, it might look simple, but there is much more to it.
The motive of email outreach:
It has become an essential tool for marketing campaigns recently. It is a common way to reach out to more people that are interested in your content. It has become vital for promoting brands, content, sales purposes, or creating links. Its primary motive is promotion and marketing.
The benefits of email outreach:
Just as described in the motive, it bases on marketing purposes. Every brand or content needs promotion. A new strategy for this purpose is email outreach, which can also be known as email marketing. Through this procedure, you will be able to reach out to several people at a time. It is a great way to build links, for brand awareness, etc.
Introduction To Email Outreach Templates:
Every email requires a template. Either it's work-related or marketing-related. These templates help send hundreds of emails in a short period and, fortunately, all without sounding like a robot. Whatever type of email sender you might be, either a marketer, sales generator, content creator, or just an individual exasperating to build links, you will find an email outreach template that will suit your needs.
Things to consider while choosing a template:
Before choosing a particular template for your email, make sure you've looked over a few sample templates. The template you select should be appropriate and according to your content. It should be formal and understandable. Make sure the template is catchy and appealing. Keep in mind the things you've to mention in your email and thus make your template.
Things to avoid in selecting a template:
To maximize responses and make more sales through email outreach, you should be sending an email with the ideal template that matches your content subject. Avoid choosing a fancy template that consists of an unrelated topic.
Do's and Don'ts of an Email Outreach:
There are a few things to consider before doing email outreach. These points should analyze entirely before sending emails. Let's discuss them in detail.
What you should do:
There are some golden rules of outreach that you should be following to attract a greater audience. The first thing to keep in mind is that the quality should matter, not the quantity. There's no use in sending it to hundreds of people who aren't even relevant to the subject. Do mention how your issue will add value to the individual that you're reaching out to. Mention your request. It should mention that what you want from the reader. Justify your subject.
What you should don't:
There are a few things that you should not do in email outreach. Due to these don'ts, your emails often go ignored. The first is sending emails to people who are not targeting correctly, which doesn't match your content. It lacks the information that'd show the person how your content will add value to him. You do not mention what action you want your recipient to take. Avoid spamming.
Word Changing Technique For Email Outreach:
Word changing can define as altering the format or sequence of a phrase and rewriting it in your own words. It can be known as paraphrasing. In email outreach, world-changing techniques can be beneficial.
How is it beneficial?
The word changing method is now widely known and used. It has numerous benefits. In email outreach, you can search templates and subjects for your email, whichever sample you like, you can use it in your work/email, but it cannot copy as it is.
To avoid plagiarism, you can rewrite it by using the word-changing technique. It will enable you to create an appealing and unique email that will increase your marketing campaign in return. You can use any professional email format that you browsed by just changing the word arrangement. It will help you create an email that will not get ignored and will promote indeed.
How it makes email outreach impressive:
This technique will enable you to make your email outreach impressive. As mentioned above, you can use any email format you glanced at that sounds appealing by changing its word sequence. It will ultimately give you an excellent email outreach.
Tools to help in rearranging words:
For writing an engaging email outreach by paraphrasing, numerous paraphrasing tools are available. These tools are available online and easily accessible. These online free tools help to create unique content for email outreach. They change the word sequence in such a way that it does not lose its meaning. Moreover, these tools generate plagiarism-free altered content.
Online paraphrasing tools:
These world-changing tools are a delight to its users. They make work hassle-free. These tools can rephrase up to 1000's words together in an instant. Hence, saving your time and effort. We discussed the privileges a lot, but we should not neglect the significance of deciding on the right tool. Below is presented a reliable tool that would be an ideal choice for you.
Paraphraser.io:
Paraphraser.io is a well-known and widely used online paraphrasing tool.
Specifications:
This tool enables you to rephrase meaningful content at a time hence, making your work hassle-free. It's easily attainable and available online for free. It corrects all grammatical errors and produces content free of plagiarism. It makes your content unique and catchy and will enable you to change words ideally for your email outreach. It bases on advanced AI technology. It generates SEO-friendly content; thus, this tool is a great choice to create your email outreach.